This weeks pull is full of the cutest books and I'm super excited!
Between Nutmeg, Lumberjanes, Ms Marvel and Giant Days I'm pretty much guaranteed a happy week and that's exactly why I love comics!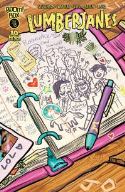 This week I'm most excited for Nutmeg, a new comic created by Jackie Crofts and James F. Wright. It's a story about friendship and baking which are two pretty A+ things so I have a good feeling about this issue! The cover and interior art look really beautiful.
But just look at this incredible variant! I NEED to get my hands on it!
I'll definitely be reviewing this one so keep an eye out!
Meg
x